Boot-Up Camp
Terms of Use and Terms & Conditions
All participants of the program must read and agree to the Terms of Use and Terms & Conditions of the program.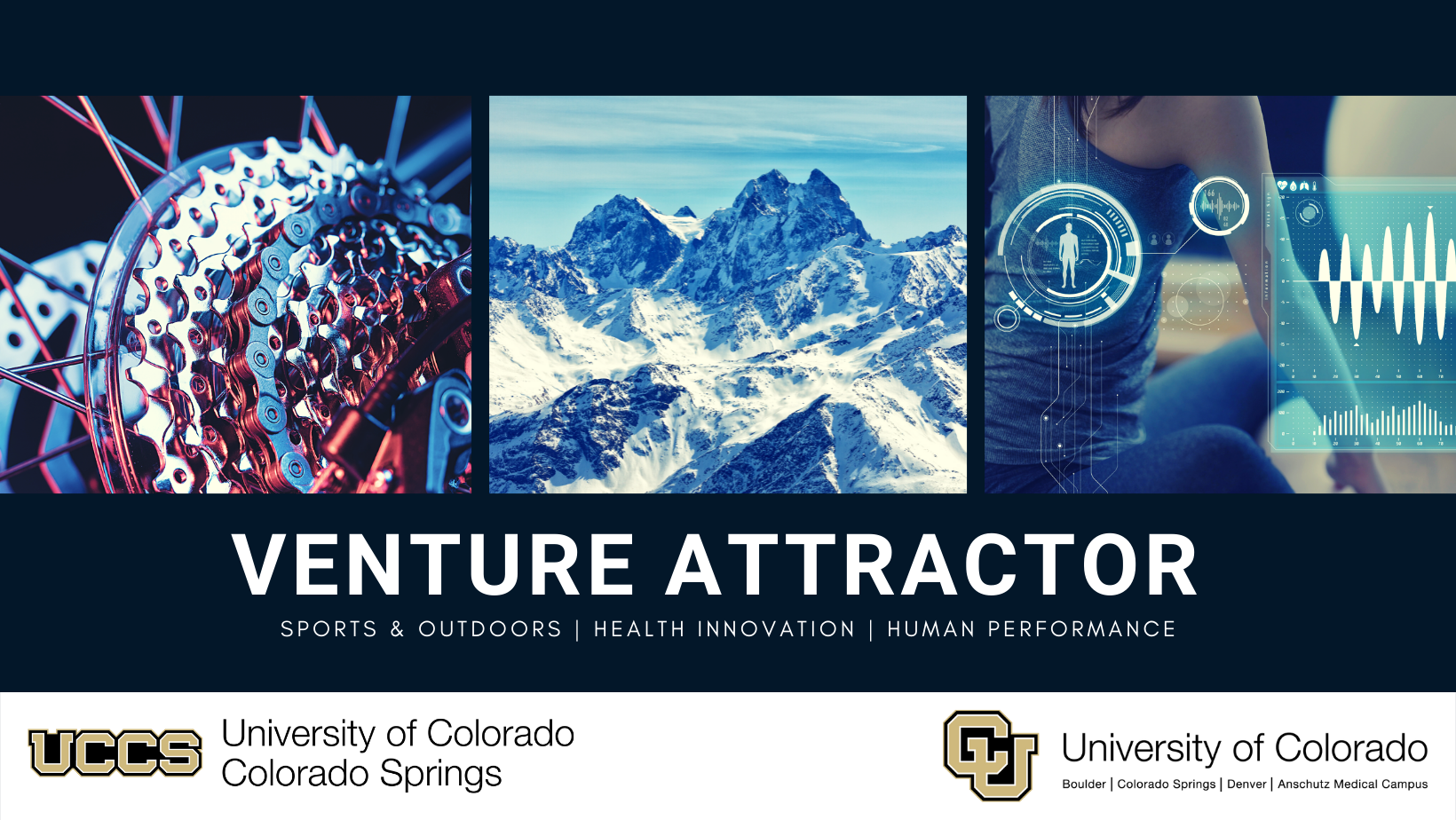 Terms of Use for Access to the
University of Colorado Colorado Springs (UCCS)
Colorado Springs Venture Attractor Boot-Up Camp
YOU ACCEPT THESE TERMS BY ACCESSING THE PROGRAM AND AGREEING TO THESE TERMS ON YOUR PROGRAM APPLICATION
1 – Acceptable Use
Your access and use of the F6S platform for participation in the (hereinafter "The Program"), and any page or function contained therein including use of any related content on or through uccs.edu, is subject to the following Terms of Use (hereinafter "Terms") and all applicable laws. Please read the following information carefully before accessing the Program. If you do not agree to be bound by these Terms, do not apply for or access the Program.  If you are accessing the Program on behalf of an entity, partnership, or other organization, then you represent that you are: (i) are an authorized representative of that entity with the authority to bind that entity to these Terms and (ii) such entity agrees to be bound by these Terms. Your continued use of the Program indicates your agreement and acceptance to these Terms.
You affirm that you are at least 18 years of age.
The information resources made available in the Program are provided to facilitate the operations of the University of Colorado Colorado Springs, and its members, including students, faculty, and staff (hereinafter "UCCS"). Use of the information presented in the Program is for the personal use of you, the reading these pages. Use of information from this site for commercial purposes, other than those expressly approved by UCCS or the Program, is not permitted. Use of data, algorithms, and conceptual information contained in the Program for resale or commercial purposes permission from both the authors and UCCS is forbidden. Use of U.S. mail addresses, e-mail addresses, or telephone numbers for the purpose of contacting individuals at UCCS for any purpose other than the conduct of business of UCCS is not permitted.
The program has the right to refuse acceptance into the Program.
2 – Copyright
The Program, and the files associated with it, are copyrighted by UCCS as owner and operator of UCCS, or by the original creator of that material. It is protected by the copyright laws of the United States of America and under treaties with other nations. Unless otherwise stated, no material on the Program is in the public domain. You may not download, copy, reproduce, redistribute, republish, publicly display, post, or transmit material on the Program unless permitted, and then only the designated material shall be included within the parameters of the permission granted. UCCS in no way represents or warrants that your use of materials displayed on the Program does not infringe the rights of third parties.
UCCS has designated an agent to receive notifications of alleged copyright infringement. If you believe your copyrighted work is being infringed on the Program, please notify our copyright agent. The agent designated under the Digital Millennium Copyright Act to receive and act upon notifications of claimed copyright infringement is:
Dan Jones
Assistant Vice President and Chief Information Security Officer
The University of Colorado
1800 Grant Street, Suite 200
Denver, Colorado 80203
Telephone: 303-735-6637
E-mail: [email protected]
3 – Linking to UCCS Websites and Third Party Links
Please note that material within the Program is linked to other websites that may have different terms of use and privacy policies. Please refer to those websites and mobile applications for the appropriate information. Please understand that UCCS has no control over the content of these third-party websites. In addition, a hyperlink to a non-UCCS website does not mean that UCCS endorses or accepts any responsibility for the content, or the use, of the linked website. If you decide to access any of the third-party websites linked from the Program, you do so entirely at your own risk.
4 – Accuracy and Integrity of Information
UCCS makes no representation or warranty as to the accuracy, reliability, or completeness of the information contained on the Program. It is possible that the Program could include typographical errors, inaccuracies, or other errors, and that unauthorized additions, deletions, and alterations could be made to the Program by third parties. In the event that an inaccuracy arises, please inform UCCS so that it may be corrected.
5 – Blogs, Individuals Opinions, and Other Communications
Views expressed via the Program are those of the author or other attributed individual and do not necessarily represent the official opinion of UCCS unless explicitly stated formally and with the authority to do so. This includes, but is not limited to, views expressed by any event attendee, speaker, exhibitor, or sponsor.
6 – Limitation of Liability and Disclaimer of Warranties
YOU ACKNOWLEDGE AND AGREE THAT USE OF THE PROGRAM IS AT YOUR OWN RISK AND THAT THE PROGRAM AND ANY INFORMATION CONTAINED ON OR PROVIDED THROUGH THE PROGRAM IS PROVIDED ON AN "AS IS" BASIS. UCCS MAKES NO WARRANTIES, EXPRESS OR IMPLIED, ABOUT THE USE OF THE PROGRAM OR THE MATERIALS IN IT, AND DISCLAIMS ANY EXPRESS OR IMPLIED WARRANTY OF ACCURACY OR QUALITY, AND ANY IMPLIED WARRANTY OF MERCHANTABILITY, FITNESS FOR A PARTICULAR PURPOSE, OR NON-INFRINGEMENT. UCCS ALSO EXPRESSLY DISCLAIMS ANY LIABILITY FOR ANY DAMAGE TO, OR VIRUSES THAT MAY INFECT, YOUR COMPUTER EQUIPMENT OR OTHER PROPERTY AS YOU ACCESS OR BROWSE THE PROGRAM OR DOWNLOAD MATERIAL FROM THE PROGRAM. UNDER NO CIRCUMSTANCES SHALL UCCS BE LIABLE FOR ANY DIRECT, INDIRECT, INCIDENTAL, SPECIAL, CONSEQUENTIAL, EXEMPLARY, OR PUNITIVE DAMAGES, FEES, FINES OR PENALTIES, LOSS OF REVENUE OR BUSINESS OR LIABILITIES ARISING OUT OF OR RELATING IN ANY WAY TO YOUR USE OF THE PROGRAM, OR SITES ACCESSED THROUGH THE PROGRAM, AND/OR CONTENT OR INFORMATION PROVIDED ON OR THROUGH THE PROGRAM. YOU ACKNOWLEDGE AND AGREE THAT YOUR SOLE AND EXCLUSIVE REMEDY FOR DISSATISFACTION WITH THE PROGRAM IS TO STOP USING IT.
The Program and UCCS:
does not provide professional valuation services;
will not provide a professional full valuation estimate;
is not investing funds into companies through the Program;
will not take equity of any company in the Program;
will not in any way facilitate, pursue, nor give advice for investments;
will not provide any legal or financial advice.
The Program staff, instructors, and mentors are not allowed to personally invest in companies while currently participating in the Program.  Once a company has successfully completed the Program, it may choose to work with investors on its own.  The Program may facilitate an introduction between a company to sources of capital.
The Program is a professional development program.  It is not a for-degree program, it will not count towards a degree, and is not eligible for degree-seeking credits.  No college credits are earned from participation in, or completion of, the Program.
7 – User Submitted Content
Any communication or material you transmit to or through the Program by any means, including data, questions, comments, suggestions, or the like, is, and may be treated as, non-confidential and nonproprietary. You hereby grant UCCS a perpetual, royalty-free, non-exclusive license in any copyrightable material that you transmit or post to the Program. Any such material may be used by UCCS for any purpose, including, but not limited to, reproduction, disclosure, transmission, publication, broadcast, and posting. Furthermore, UCCS is free to use any ideas, concepts, know-how, or techniques in any communication that you send to or through the Program, for any purpose whatsoever, including, but not limited to, developing, manufacturing, and marketing products. You acknowledge that you are responsible for all information you send to or through the Program. You may not post or transmit any information that is illegal, threatening, libelous, defamatory, obscene, ethnically or racially offensive or discriminatory, profane, infringes the copyright or other intellectual property right of any third party, invades the privacy of another person or any other information or materials that constitute a crime, gives rise to a civil action or otherwise violate any law or confidentiality agreement. UCCS reserves the right to refuse to post any such message and may take appropriate legal action.
8 – Audio-visual Recording
By using the Program you acknowledge and hereby grant UCCS unrestricted permission to use and re-use photographic portraits, editorials, video, digital or film images, or any pictures taken of yourself, individually or in conjunction with other photographs, in any printed or video-graphic matter, in any and all media, and for any purpose allowed by law. Footage may be retained by UCCS archives for historical purposes. The includes, but is not limited to, illustration, promotion, art, editorial, advertising, and trade.
9 – Privacy
The Program will use information provided in your application for email updates, notifications, shared within the Program management team, instructors, and mentors, and shared with registered investors at any Demo Day event(s).  At any time after the Program completion, you may opt out of receiving email communication.
To the extent the UCCS Privacy Policy does not conflict with these Terms, please refer to our privacy policy for a complete discussion of how UCCS utilizes information you communicate via the Program. Our privacy policy is available at https://uccs.edu/privacystatement.
10 – Trademarks
All trademarks, service marks, and logos ("Trademarks") displayed and used in the Program are the property of UCCS or used by UCCS with the permission of their respective owners. Nothing in the Program should be construed as granting any right or license to use any Trademarks without the written permission of its owner.
11 – Advertising and Publicity
You shall not use any UCCS name or logo in any form of publicity or promotional or advertising material, or in any communications with the media without UCCS's prior written consent to the specific contemplated use. UCCS does not endorse, recommend or approve the commercial products and services displayed on the Program, if any.
12 – Revisions
UCCS reserves the right to modify and supplement these Terms at any time, without prior notice, by posting the new terms on the Program and within the terms of use. You agree to review these Terms periodically to be aware of such modification and your access or use of the Program shall be deemed your acceptance of the modified agreement.
13 – Choice of Law, Forum, and Severability
This agreement is governed by the laws, rules, and regulations of the State of Colorado, as are now in effect or as may be later amended or modified, without reference to the choice of law rules on any state. The Second Judicial District Court, Denver, Colorado or the United States District Court for the District of Colorado shall be the exclusive jurisdiction and venue for any claim between the parties, and you hereby consent to the jurisdiction and venue of those courts. In any action to enforce these Terms, UCCS shall be entitled to court costs and attorney's fees. If any of the provisions of this agreement are held by a court or other tribunal of competent jurisdiction not to be enforceable, then such provisions shall be limited or eliminated to the minimum extent necessary so that this agreement shall otherwise remain in full force and effect.
14 – Application Requirements, Payment, and Refunds
Business owners will agree to an acceptable background check, including any state and federally mandated checks, to ensure compliance with all applicable state and federal laws.
All information provided in the application must be true and correct to the best of your knowledge.
Your acceptance into the Program is at the discretion of the Program and UCCS. The Program has the right to refuse your acceptance into the Program.
Payment in full to the Program is due after confirmed acceptance into the Program and before the Program begins. Payments are not refunded after the Program has begun.
YOU ACCEPT THESE TERMS BY ACCESSING THE PROGRAM AND AGREEING TO THESE TERMS ON YOUR PROGRAM APPLICATION
——————
University of Colorado Colorado Springs (UCCS)
Colorado Springs Venture Attractor Boot-Up Camp
Terms & Conditions for Application
I agree to a background check or verification acceptable to UCCS, including any state and federally mandated checks, to ensure compliance with all applicable state and federal laws.
I understand that UCCS does not guarantee that my startup business will be valued at any specific amount or that you will receive any monetary benefit from this program.
I understand that UCCS is not investing funds into companies and does not take equity of any company through this program.
I understand that UCCS is not providing either financial or legal advice to any person or entity through this program.
I understand that this is a professional development program and that it is not a for-degree program, it will not count towards a degree, and is not eligible for degree-seeking credits. I understand that I will not receive any UCCS credits for this program.
I affirm that all information I have provided in the application is true and correct to the best of my knowledge.
I affirm that I have read the Terms of Use for this program and I accept the Terms of Use.
I affirm I am an authorized representative of my startup business, named on this application, with the authority to bind my startup business to the Terms of Use and that my startup business agrees to be bound by the Terms of Use.
Have questions before applying?